Beautiful
12 Things Every Hotelier Should Know About Lighting
January 2018 - by Lux Review
I like this
Hotel lighting is a complex area and has a huge impact on the finished project. Whether your hotel is an off-charts success or utter disaster can lay on the lighting scheme. You are really best off leaving it to the professionals but if you are determined to go it alone, here are the 12 most important points by hotel lighting expert Neil Knowles.
It's really not about lux levels
Often you see recommended lux levels for certain areas –"Restaurant – 300 lux," this sort of thing. You should not only rely on these. Nobody will come to your restaurant if it is lit to 300 lux, it would be like an office. Far more important is the atmosphere, the play of light and shadow, the intimacy. Light the artwork to 300 lux sure but the wall space next to it can be safely left darker.
Darker restaurants are more expensive
You actually don't need a lot of light for some activities and eating is one of these. The bright lights in fast food restaurants wake you up and get you in and out quickly. As a general rule, the darker the restaurant the more luxurious it feels. Until you get to the very, very top (but that's another story).
What is color temperature?
All white lights are not created equal. Some are warm like candles, some are cold like ice. You need the right one and getting it wrong will make your lovely intimate space as welcoming as the Artic. Color temperature is defined by a number measure in degrees Kelvin, for example 3000K. Learn what these are and which is correct (2700 K is a good start for a hotel).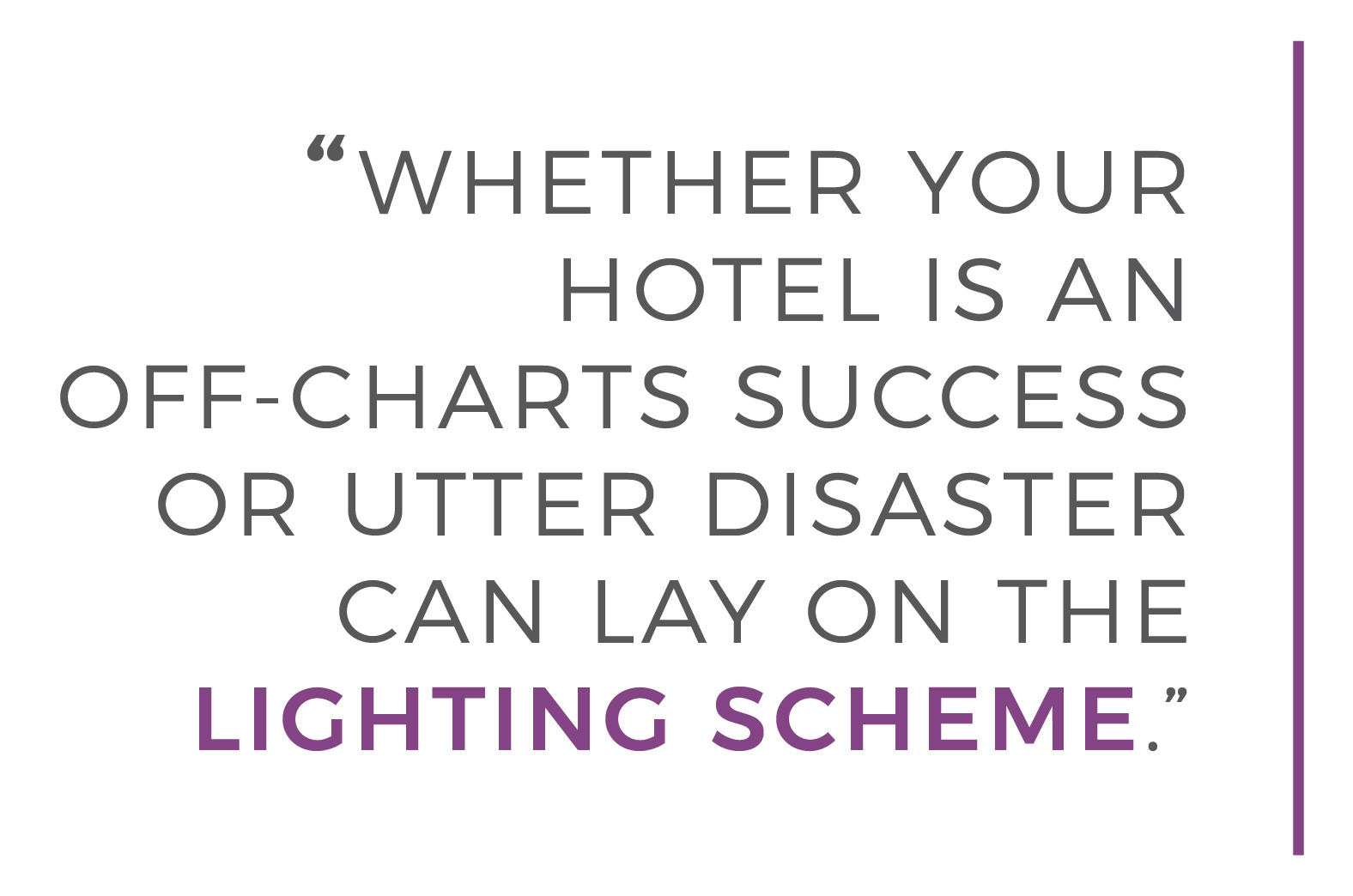 Not every downlight is the same
Just as there is a vast difference in car manufacturers on the market, there is a vast difference in downlights. You might want a Rolls Royce or you might want a Toyota. Both have their place in the world. Despite the fact that they both have four wheels and four seats, they are not identical. Choose yours carefully. For a typical new hotel, you will be spending almost £1 million on light fittings, and you don't want to buy a million pounds worth of Lada, do you? The light fitting you have seen somewhere else might well be cheaper. Doesn't mean it is appropriate for your project.
Beam angles (do NOT change them when re-lamping)
Many fittings come with a defined beam angle; a narrow spot down to a table or a wide flood to fill a room. When you change the lamps, you need to ensure you maintain the beam angles, or your entire look and feel will change, and you will be scratching your head wondering why.
If you move all the furniture, you will need to move the lighting
Restaurant table has a spot to it? If you move the table, move the spot. Some people make remote control fittings for this purpose but if it's a permanent change, get a ladder out and move it yourself. Nobody wants to be the person at the end of the table with a downlight focused onto their thinning hair because the spot is poorly aimed (I may be talking about myself here).
Quick fixes costs more than the right solution
Lighting not quite right? Sort it out. Properly. If your chairs were uncomfortable you would not stitch a cushion on top, would you? So why think that adding filters is a satisfactory solution? Get some proper lighting, correct the beam angle, and smooth dimming. Yes, it's an investment.
Choose the right control system...
A dimming system is more than just a dimmer. It can set scenes. This means, it can create a pre-set scene or look for each time of day and then automatically switch between them. It also allows us to create multifunction spaces – bright classroom lighting in your ballroom, or glamorous wedding mood? Easy with the right control system, properly programmed and properly set up.
...but don't overcomplicate it
Nobody wants an app to turn their room lights on. Your guests may just have stepped off a long flight and they want to iron the shirt for tomorrow, drink a quick beer and fall asleep (or is that just me, again?). They do not want to be figuring out the touch screen by the bed, or logging on to the Wi-Fi, installing an app, connecting to the room and then turning next door's lights on by mistake. With guest room lighting, remember the golden rule: KISS (keep it simple, stupid).
Lighting can make identical spaces look different
Particularly important with places like the all-day dining restaurant. Bright, airy and stimulating at breakfast time; then moody sexy and intimate at night. Lighting can do this for you. There is more to it than turning it all down on a big dimmer knob. See also – color temperature, beam angles, lighting the features not the floor...
Don't light the floors!
Less lighting makes better ambience if located in the right place. DO NOT light the floors!!!! People don't go walking always looking at the floors! We've done entire projects with not a single downlight and they are amongst our best work. Light the features, the interesting bits, the places that define your identity.
Learn when to delegate
I didn't research this article, I just sat down and wrote it over lunch. Honestly, if I have to explain stuff like this to you, you don't want to be designing your hotel lighting; you want to be getting a professional in. You could spend 10 years learning what I know, but at the end of it you'd be 10 years out of date, and a lighting designer not hotelier. And you don't want to be a lighting designer – the pay isn't great.
Neil Knowles is the director and principal of Elektra Lighting, an award-winning London independent lighting design consultancy. The practice specializes in hotels, retail, restaurants, bars, private houses and workplaces. www.elektralighting.co.uk