Beautiful
Light+Building Artist Spotlight: Virginia Scadeng
March 2018 - by SORAA
I like this
Tell us about where your internal inspiration comes from? How does it influence the work you do? And how do you want others to view and experience your work?
Most of my work is a result of memories, and the landscape or structures within. Sometimes I intend to make a painting based around this experience, but usually this is only the starting point and it takes on a life of its own. If the forms that inhabit these paintings should hint at 'something else', I am at ease with this. Equally, the viewer may experience the color and brushwork as entities in their own right.
Tell us about light and color and how that plays into your work and your creative process?
Color, particularly, is very important. I like the way colors work together to create mood and atmosphere. However, the brushwork is equally important, whether this be still and quiet or more gestural, such as in 'Green Field'. I do not imply a light source as such, but sometimes the sensation of light is suggested through the way the paint is applied in layers or in the use of contrasting colors.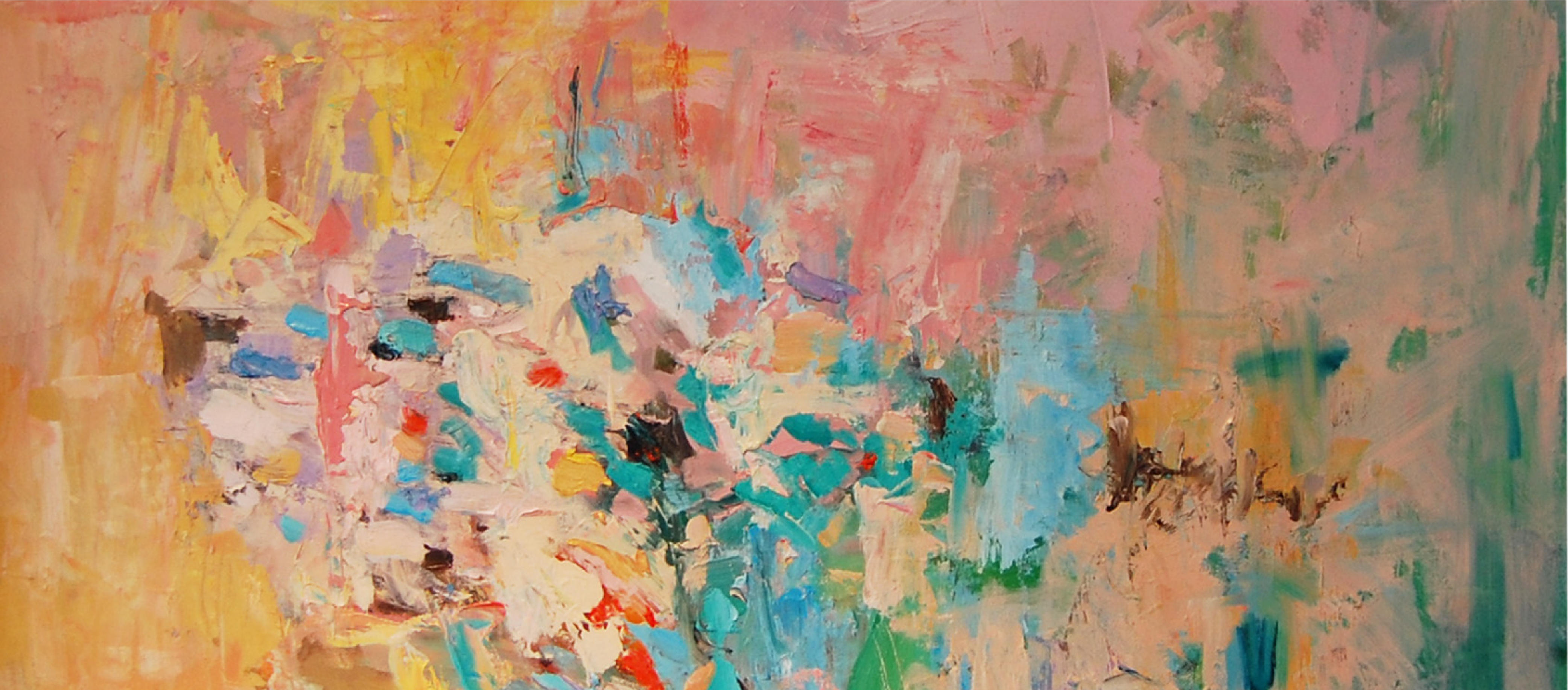 As an artist, tell us about what other art forms and artists have inspired your work?
I have always been influenced by the work of the St Ives artists, particularly Peter Lanyon and his son Matthew. I was lucky enough to meet Matthew Lanyon in St. Ives last year and discussed his work with him. Having visited Australia twice, I love the work of traditional aboriginal artists – some of which is reflected in Matthew Lanyon's painting. I also admire modern Australians like Arthur Boyd, Danish artist Per Kirkeby and American Jean-Paul Basquiat.
How has your art evolved or changed over the years?
While my painting is never preconceived, I feel I have become slightly less improvisational in recent years. Where I would have once relied more on continuous experimentation with the paint on the canvas, I am more able to structure the painting as it progresses at this stage. Of course, I am still able to surprise myself with spontaneous changes of direction.
Tell us a bit of background on you in terms of how you got your start/what the spark was?
I drew continuously as a child and into adulthood, but was not able to go to art college and pursue this as a career until my 30s. Since then, I have worked as a teacher and an art lecturer, and also adapted my skills to undertake illustration work. However, painting lies at the core of my life as an artist.
Who else represents your work?
As well as 'Art In Offices', I am represented by 'Artiq', another art rental company in London. In my home town of Whitstable, I am represented by Betty Loves Bryan gallery.
Where you can purchase your art/notable shows you might have coming up?
My last solo show was at Betty Loves Bryan gallery, either side of which I had work in open shows. Since then, I have been building a new body of work with a view to future exhibitions, while some of my paintings are presently rented by private companies and residences.
Where can people learn more about your work online?
email: ginny@virginiascadeng.co.uk
instagram: https://www.instagram.com/canvaswoman/
Related Products