Beautiful
Masters of Light: Gabrielle Serriere
March 2018 - by SORAA
I like this
What comes to mind when you hear the words artist, palette, texture, or masterpiece? Most people may conjure thoughts of a painting or sculpture; for Gabrielle Serriere, the terms help articulate a day in the life of a lighting designer.
Gabrielle, an independent lighting designer living and working in Portland, Oregon, started her career as an architect, learning how spaces are designed, built, and put to use for those who encounter them. But, Gabrielle's career path led her to explore and excel at manipulating intangible elements within those structures – particularly light – to create a moving human experience.
We wanted to learn more about Gabrielle's approach to properly lighting a space, but also about the dynamics within her passion and the lighting industry at large that have positioned her as a rising star among her colleagues. Here's what she had to say.
---
What career advice would you give other young lighting designers seeking to make their mark on the industry and grow a professional profile?
Don't be afraid to design outside the box, and don't be afraid to get shot down. Concept after concept will be rejected but you can't let that take away from the value of ideas you're extracting from your brain and putting onto paper. (Please, put it onto paper. Paper is not dead.) Also, join a firm where you know you can grow and will be respected. The fact that I was trusted with so much responsibility from very early on at Architecture & Light made me push myself and believe in myself in a field that was new to me after six years of architecture. Note: To gain respect, you must respect the process, and be receptive to all of the knowledge given to you. Be patient in the years of learning you will receive from others.
Which project are you most proud to have led?
While at Architecture & Light, I led the lighting design of Bloomberg's flagship West Coast Tech Hub in the iconic Pac Bell Building at 140 New Montgomery, in San Francisco. It's a creative, clean workplace interior that proved to be a rewarding challenge. I collaborated with IwamotoScott Architecture to create seamless lighting details melting into original and new architecture. One of my favorite elements is the chevron-shaped glazed ceramic tile cladding of the 1925 exterior that veils the windows. Many interior elements celebrate this historic cladding, including linear LED tucked behind window frames that graze the beautifully exposed brick. A&L received an IES Award of Merit for this project.
If you were to work on a dream project, what would it be?
I really want to work with light and music. I would love to get into performance art where the lighting designer is part of the overall experience in real time. A song will come up on my playlist and I see and feel light dancing around in color. Light patterns seem to flow naturally out of rhythms. I keep imagining this as an art installation somewhere, or a collaboration with a theatrical team for a show. I'm floored by the The Wave by @obscuravertigo of Denmark for example.
As more parties enter the architecture and design phases of a project, lighting design becomes more challenging. What do you envision as the ideal ecosystem of interaction between the architect, contractor/project manager, lighting designer, manufacturer and client?
How this "world" works in the United States is not ideal as this ecosystem of relationships is evolving. (See graphic below for How the World Works.) Because of the missing contractual link between the architect and general contractor, those two members of the team often seem to be in competition with one another, like restless siblings fighting for their mother's approval – and this is in the rare case the project has a lighting designer. And as you can see in my sketch below, note how I've chosen to represent all circles at the same size. Each team member is equally as important as another.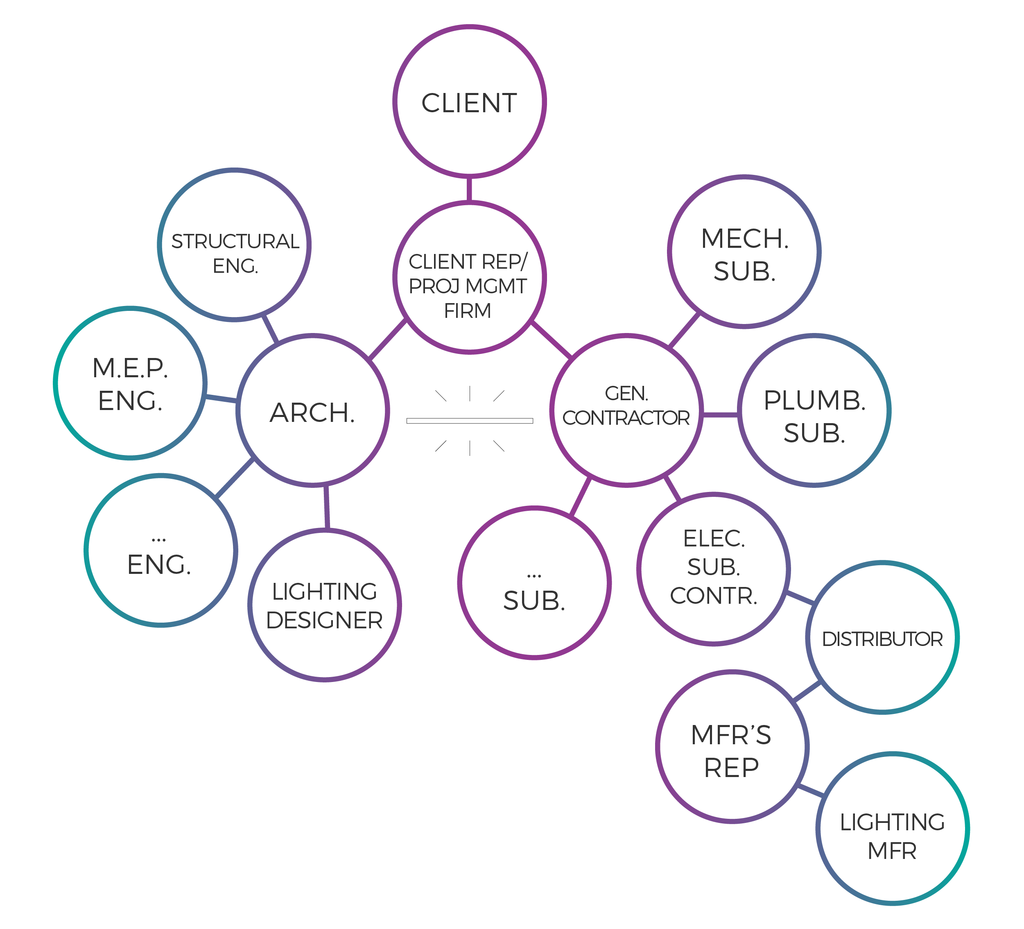 In a more perfect world (see my sketch below), there are honest lines of communication from the beginning – and luckily this is achievable. But, this arrangement takes an architect extraordinaire, who might as well be known as a social coordinator or orchestra conductor – but only if all parties act as musicians who want to work together to perform in harmony and in the same rhythm.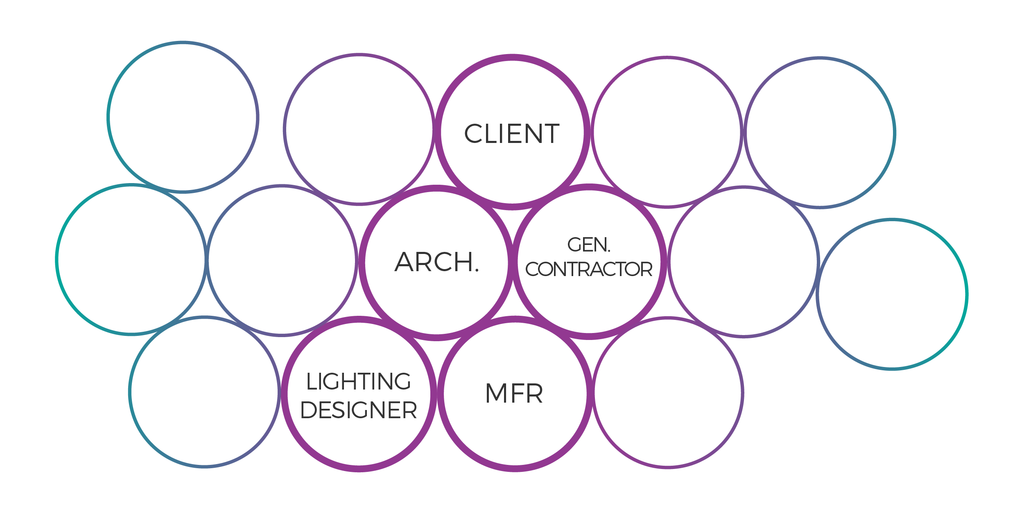 How do you see the lighting design industry evolving in the next 5-10 years?
In five years I see more lighting in the home being controlled by our voice command devices, and therefore integrated with other media in the home. However, there is a learning curve associated with this and no matter how "easy" it's advertised to be, there's still setup involved, so I think it will be slow-moving.
In 10 years, commercial lighting has the potential to be much more connected in IoT technology applications. I say potential because there is a major cost factor to the client of time involved to design, commission, and maintain the systems that have all the seemingly "magical" data collection and communication.
Anything else you'd like to add?
Lighting rule #5: When in doubt, draw it in section.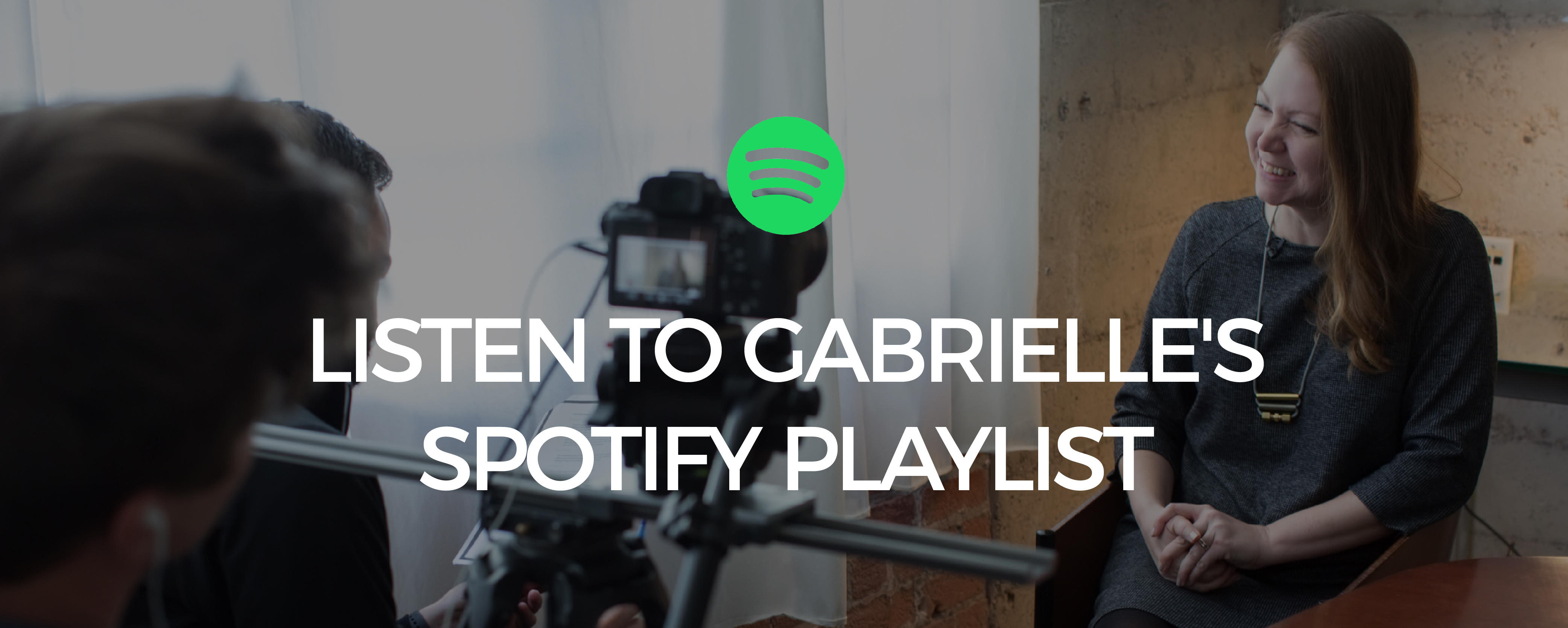 Fun Facts that Make Me Who I Am
French-American

Raised speaking English, French, and Lego in the household – fluent in all three. Also speak a touch of German, and a sprinkling of Dutch

Got my Bachelor of Architecture degree from Cal Poly San Luis Obispo

Over six years, I lived and worked in architecture in the Netherlands, Paris, Lausanne, and London.

Switzerland was my favorite. (I liked it so much I kept a piece for myself; my partner Oliver.)

Worked for Foster + Partners, London

My appendix burst. Misdiagnosed as food poisoning / IBS… 2 years later, burst appendix discovered and removed… Lived.

Moved back to California and became a #girlboss in San Francisco

Adopted Nika, our brindle fur child bundle of joy. Okay, she's a dog...

Moved to Portland, Oregon
My Favorite Podcasts