Beautiful
The Restaurant Design Trends You'll See Everywhere in 2018
January 2018 - by Architectural Digest
I like this
High-tech lighting and retro finishes ahead
Originally Posted in Architectural Digest December 7, 2017
The rustic-hewn, Anthropologie-inspired era of restaurant design is over, as designers look toward sleek surfaces, rich woods, and greenery to adorn their spaces in the coming year. AD PRO spoke to several masterminds of restaurant design to get their take on what you'll be seeing everywhere in 2018. Prepare for lots and lots of wood!
Bespoke lighting is in.
The one trend on every designer's list for 2018? "Lighting that makes us all look good," according to Tracey Sawyer and Kajsa Krause of Krause Sawyer, a New York-based luxury hospitality design studio.
The Johnson Studio's associate principal Anita Summers, a lighting design specialist, agrees. "Technology will be the biggest influence in lighting in 2018, giving the user ultimate control," she explains. "Through remote controls and apps, restaurants will be able to control singular bulbs in any part of the space from switching on or off, dimming, and changing color."
Another hot lighting trend? Custom art-inspired fixtures. "Designers are working with artists more than ever today to create one-of-a-kind pieces that can't be replicated," says Summers. "We'll see more in 2018; from warm, handcrafted art to outstanding, modern pieces."
Retro finishes will make a comeback.
Chrome was all the rage in the swinging '60s and '70s, and has since made a comeback in runway collections from Kenzo to Gucci. Now, the splashy metals are making a statement in on-trend restaurant interiors.
Designers Amy Morris and Anna Polonsky of design studio The MP Shift expect chrome to pave the way in 2018, replacing brass as the finish du jour. "We're collaborating on the design of a space in Houston that will have a chrome kick on the banquette and a chrome soffit over the bar,"the duo reveals. "It's something we've always loved but only now are clients warming up to the style."
Speaking of a hard sell, The MP Shift also expects to see linoleum (yes, like your grandmother's house) in more and more spaces. "There are so many colors, and it will last forever. Maybe 2018 will be the year everyone falls in love with lino," Morris quips.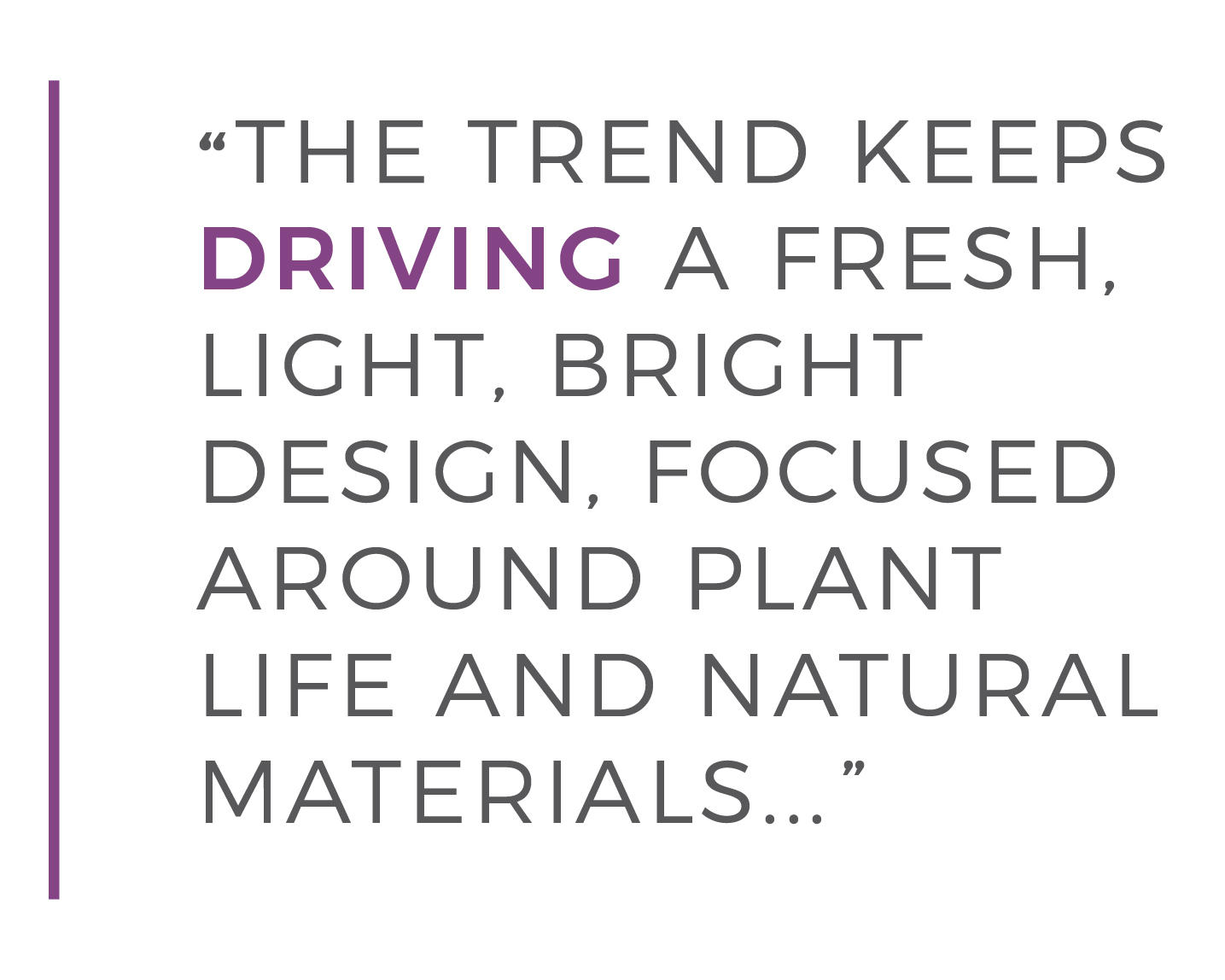 Everyone is going green.
There's been an infusion of plants and greenery—including living walls—in restaurants and hotels over the past few years, and it's not going away. "There is growing interest in research on the positive health effects of seeing and being around greenery," says Ray Chung, director of design at The Johnson Studio. "We will likely see more ornamental plants integrated into interior design as an antidote to the machine-made world."
But greenery won't just be nice to look at. "At the same time, as farm-to-table philosophies evolve to be even more local, we will probably see more restaurants growing herbs and even some produce on-site," Chung adds.
Instagrammability is key.
In 2018, restaurants will continue to offer more than just food to take photos of, as designers add their touches of whimsy in the form of objets d'Instagram. Think colorful, patterned floor tiles (#ihavethisthingwithfloors), the ubiquitous neon sign, and photogenic antique oddities.
"The trend keeps driving a fresh, light, bright design, focused around plant life and natural materials," say Sawyer and Krause, "mixed with unexpected, 'personal,' or vintage elements, perfect for creating an Instagram moment."
Midcentury modern is here to stay.
Did you think it was over?! Midcentury modern furniture, lighting, and color palettes have been all the rage for the past few years, but now designers are turning to another trend of the era: wood paneling.
"In 2018, gone is the rustic refurbished industrial look; we are creating fresh and warm environments using our favorite natural textures," say principals at Studio Munge, who have used wood paneling in two recent projects, Leuca at The William Vale Hotel in Brooklyn and KŌST in Toronto.
Morris and Polonsky have also incorporated wood paneling in two of their recent New York City projects, Cervo's and VHH Foods.
Less is more.
Matt Abramcyk, the restaurateur behind Tribeca favorites Smith & Mills and Tiny's & The Bar Upstairs, is adhering to this mantra in 2018, especially with the newly-opened Osprey at 1 Hotel Brooklyn Bridge.
"Consequently, we're more inclined to embrace the original architecture of the space," explains Abramcyk. "Here once was a time when a restaurant's identity was defined by lavish wallpapers, oversaturated corners, and elaborate color schemes. Today, we're highlighting the craftsmanship."